Register now
Two steps to the bike: REGISTRATION - RENT
1. REGISTRATION
After you complete the form, sign in at the right corner on this website by entering your mobile phone number and PIN which you previously received by SMS. If you do not know your PIN, click on the question mark in the PIN field and we will send you a new PIN.
The next step is one-time payment of 79 kn to nextbike account via a valid credit card (MasterCard, VISA, Diners, American Express) or a Visa Electron debit card.
While renting a bike, please use your mobile phone number and PIN received via SMS after registration.
2. RENT
1. Enter your mobile phone number and PIN on the terminal
2. Enter the number of the bike you want to rent
3. Drag the bike from the rack and unlock the padlock
Bike sharing system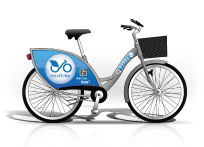 nextbike is an automatic bike sharing system. Every day the first 30-minutes is free of charge. It is also possible to rent a larger number of bikes for a group. More information on group rentals find here Group rentals.

Register now
QUESTIONS?
If you have any questions or need help to activate your account, please contact us at info(at)nextbike.hr and you'll get a response within 24 hours!
Your nextbike team!
Follow us on nextbike Croatia

facebook page!
HOW IT WORKS
1. Registration 2. Rent a bike 3. Return