TOURIST BIKE
Register now!
What is the secret ingredient for the pure fun in Šibenik?
You are staying in Šibenik for only a couple of days? You don't have much time and there are a lot of things and sights to discover? We have an easy, fun and practical solution for you!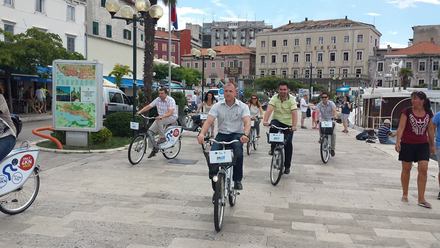 Summer in Šibenik is filled with open air events, yet it is very difficult to see them all in such a short time. So, it's best to sit on the bike and visit them all in the cheapest and healthiest possible way!

Of course, people will tell you that you shouldn't leave Šibenik without seeing the Cathedral or St. Michael's Fortress, but there are many other places where you will feel like a real Dalmatian.
St. Anthony's walkway
This walkway was built not so long ago, but it has already become the most favourite place for all the people in Šibenik. It is located only 15 minutes of bike ride from the city centre.

Ride through this 4.4 kilometre long trail and discover a unique view to Šibenik and St. Antony's channel. Take time to relax and enjoy the view of nature and beautiful blue sea.

Another great opportunity is to drive to St. Nicholas Fortress and take a peak at the 4 centuries old fortification.
The Banj beach
Besides beautiful sandy beach and an amazing view, Banj beach offers you coffee shops and clubs that will provide you with good old summer fun.

The best thing is that the beach is fairly easy to get to and yet far enough from the city centre. Sit on the bike and ride, nextbike station is right above the beach and easily accessible by bike.
Šibenik Market
Every sightseeing is not complete without the tasty food so what better place to go and feel the true Dalmatian spirit than the market!

Even though it is crowded almost all time, the colours, smells and tastes of fruit and vegetables will attract you to stay there couple minutes longer than planned. Also, it is good to know that nextbike bicycles have baskets that will help you carry everything to your vacation home.
A few good tips to remember:
• Nextbike is the cheapest type of city transportation!
• You can always contact your nextbike Croatia team for group bike rentals and, if needed, to choose a location where you would like us to deliver the bikes for you!

See you in the city! Find out what other secret ingredients make Šibenik so irresistible. Simply sit and ride!
Sit and ride!